YouTube is one of the best ways to make money online. Many youngsters are choosing YouTube as their full-time career because it has the potential to make much more money in comparison to a regular job or a small business. If you also want to earn money from a YouTube channel in 2022, here are the top 10 earning ways on YouTube.
How to Make Money on YouTube?
A few years ago, no one could have imagined that social media can be an earning source, in fact, you can make millions. YouTube has an official monetization program, called YouTube Partner Program (YPP) that enables you to earn money from ads shown in your videos, and there are many more earning ways.
The fundamental concept that enables you to make money on your YouTube channel is that you have viewers/audience who listen to you. If you suggest some product/service to them, most probably many of them would purchase that. And for this, many companies and brands are willing to pay you huge money according to the subscribers on your channel and views you get in your videos.
10 Earning Ways from YouTube Channel
If you've just started out and your channel is small, brands won't be willing to promote their products/services through your videos. But YouTube Partner Program allows even small channels to make money through ads shown in their videos.
You might have seen and even skipped ads when watching YouTube videos. Creators get money through these advertisements, and the eligibility criteria to get into YPP is to have a minimum of 1000 subscribers and 4000 hours of watch time completed in the last 12 months.
After meeting these requirements, you can apply for the YouTube Partner Program which is a very easy process. You just need to login into your YouTube Studio dashboard and go to the 'Monetization' option. You need to create an AdSense account as your earnings will be transferred to your bank account through it, and if you've already an existing AdSense you can connect that account with your channel.
Not only ad revenue, but you are eligible for many other monetization options after being accepted into the YouTube Partner Program. Let's now discuss all of them, and also some other earning methods that you can apply to increase your YouTube earnings.
1. Ad Revenue and YouTube Premium
Advertising revenue comprises the revenue that comes from the display, overlay, and video ads that run on your YouTube channel. How much money you will make, depends on the type of content you create and the CPC in your country. For example, US creators get a very high CPC in comparison to India and so the same video will have different earnings in both countries.
YouTube has also launched a premium version where viewers can get rid of the advertisements for a monthly subscription. And if your videos are watched by the premium members, YouTube shares the YouTube Premium revenue with you also.
2. Super Chat and Super Stickers
Super Chats & Super Stickers show as colored chat messages in the chat feed of YouTube live streams. When a viewer makes a purchase, their profile picture can stay on top of the chat feed, and how long it stays depends on their purchase amount. The more money a viewer spends, the longer Super Chats or Super Stickers can stay at the top of the chat feed.
The money that your viewers spend on Super Chat and Super Stickers is shared with you where YouTube takes 30% in the name of transaction costs and you get 70% revenue share. If you frequently do live streams of your YouTube channel, you can earn a lot of money through just super chats and super stickers.
3. Channel Membership
You must have seen the 'JOIN' button alongside the 'SUBSCRIBE' button on many channels. The 'JOIN' button is for channel memberships through which your viewers can pay monthly in exchange for some exclusive content that you only post for your channel members.
Channel membership is a great way to offer your biggest fans exclusive benefits like custom loyalty badges, emoji, and members-only content when they join your channel as a paid, monthly member. The best part? You pick what rewards to offer and how much to charge for each membership level.
4. Super Thanks
As mentioned above Super Chats and Super Stickers are shown in live streams, with Super Thanks viewers can buy a fun, "clapping" animation that is shown as a colorful comment in the comments section of normal videos.
Super Thanks is another source of revenue you as a YouTube creator can have while giving your fans a fun way to express their gratitude for your content. And you'll receive Super Thanks revenue in the same way that you receive ad revenue with AdSense.
5. Sponsorship and Brand Deals
If you have a good fan following and your videos get thousands of views then you can partner with brands and earn money to include advertiser content in your videos. There are many brands that are willing to promote their products and services with your viewers and you can charge them according to your views and subscribers.
Sponsorship is the easiest and the major earning source for most YouTubers. You just need to talk about that brand for 30-60 seconds and you can charge lakhs of rupees for brand integration. Many brands also seek dedicated videos where the entire video will be dedicated to explaining the features of their products and services, and dedicated ones can get you higher revenue in comparison to integrated videos.
Also Read: YouTube Myths You Must Ignore to Grow Your Channel
6. YouTube Shorts Fund
Due to the reduced attention span of people, every platform is trying to capture the market of short videos. These are shorter videos (usually vertical) with a running time of 15-60 seconds, and people are just loving them more in comparison to longer videos. Instagram is leading this game with Reels, but YouTube has also launched its own version, YouTube Shorts.
Shorts is the spot to shoot, share and binge short videos (think 60 seconds or less) on YouTube. It's where you can go to start trends, try out a dance challenge, bring your hilarious ideas to life, and more. You don't need to go anywhere, the same YouTube app will have this feature and creators can make shorts along with long videos on the same channel.
And if you also are a Shorts creator, you can earn money from the YouTube Shorts Fund. It is a $100M fund to reward creators for their dedication to making creative, original Shorts that delight the YouTube community. YouTube will reach out to you each month to tell if you qualify for a Shorts bonus from this fund.
7. Selling Merchandise
You might have seen many famous YouTubers promoting their merchandise products like T-shirts, hoodies, mugs, etc. If you have a good fan following, you too can start merchandising and earn handsome money by selling products with your design.
YouTube has even launched an official merch self that can showcase your merchandise products on your channel's video pages as an additional section of merchbar. You can definitely start your own e-commerce store and sell there, but if you have no idea about it you can always go with the official YouTube merch retailers.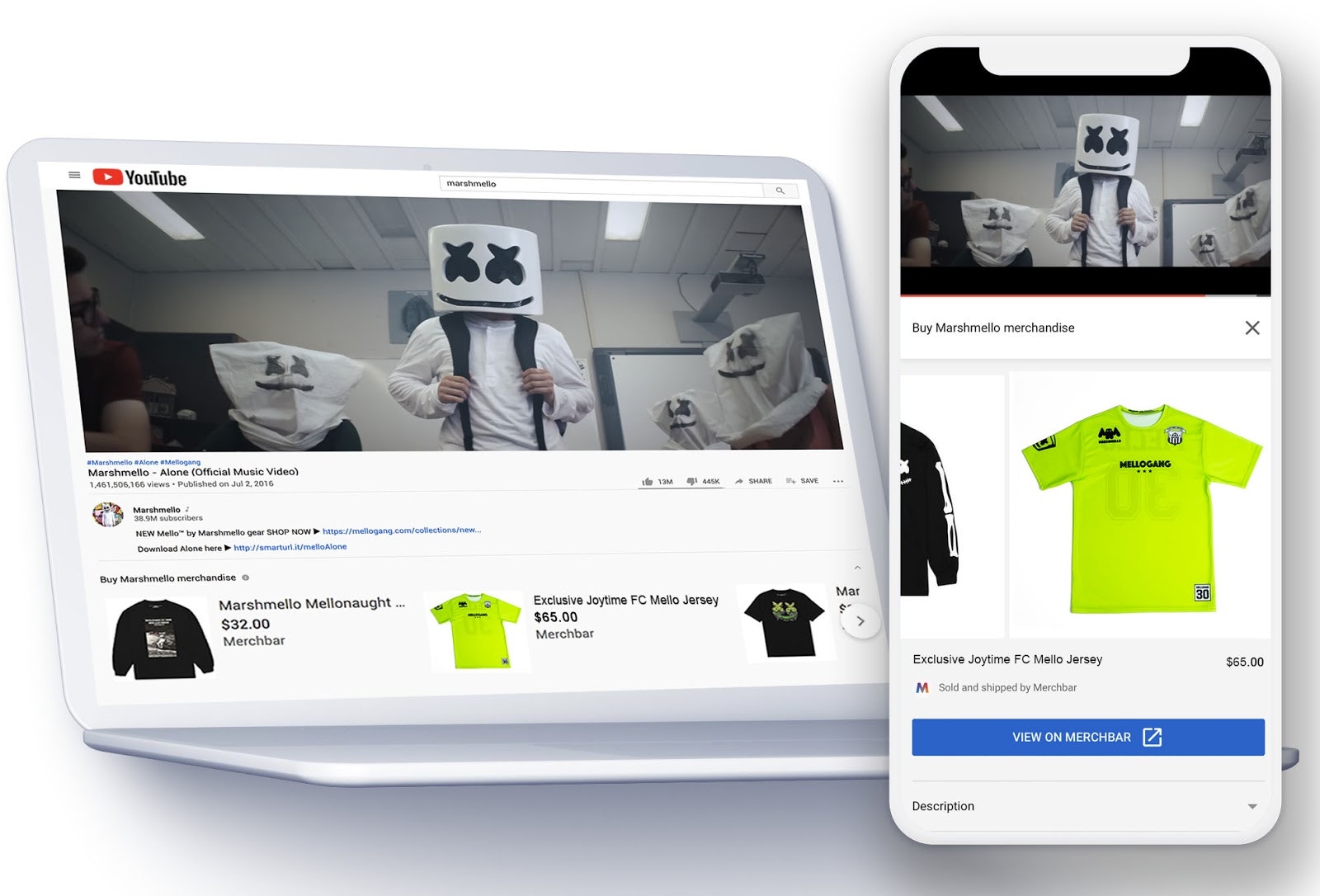 Official merch retailers will manage everything for you, from outsourcing the products to designing, packaging, and shipping. This is also a good way to make more money along with Ad revenue and other monetization options on YouTube.
8. Affiliate Marketing
Affiliate marketing is a great way to make money where you get a fixed commission for every sale people make through your affiliate links. Amazon and many other e-commerce sites have an affiliate program where you can join as a publisher and earn money by providing affiliate links of recommended products in your videos.
It is best suited for videos where you review some products. You can give an affiliate link of that product in the video description from where your viewers can buy the same. Not only review videos but affiliate links can be placed in vlogs also where you can link to gadgets you use to make videos and manage your YouTube channel.
9. Selling e-Books and Online Courses
You might be receiving many comments on your videos where viewers ask you how they can learn the skills you are a master of or let's say how to become a successful YouTuber or social media influencer. So you can write an e-book and sell its pdf version to people and earn some money.
The online learning industry has also grown exponentially in recent years, and many people want to video courses to learn something. You too can launch an online course regarding what you want to teach people, and make money through this also.
I know, you might be thinking of the competition in the space of courses but you don't need to worry. You already have an audience who believe in you and no matter how many courses are there, people will purchase yours because they want to learn from you.
10. Earn through other Social Media
As you grow on YouTube, your viewers want to engage with you more, and follow you on every social media platform. You can look at it as a great earning opportunity. Not only you can build your online presence on every social media, but you can also make money by promoting different on your social media pages.
You can very easily increase your social media followers by placing links in the video description or in the channel's about section. Many creators also start their blogs that can also be monetized with Google AdSense and make money through advertisements.
So there are endless opportunities to earn money from a YouTube channel. You just need to think of some ideas where you can redirect your viewers and monetize that. If you haven't started your YouTube channel yet, do think of beginning because it has immense potential. Thanks!